According to UNICEF (May 2022) 24.56% of children in Nigeria face extreme poverty by living in households that spend less than $1.90 a day, you guys that's less than #860 a day!!!! Yes, I'm as shocked as you 😳😱🤯😲! And you can be sure that this extreme case of poverty is very evidently seen by the shabby clothes these disadvantaged children wear, year-in year-out. I mean, for families that can barely afford enough to each decent meals, how would they properly clothe these children ?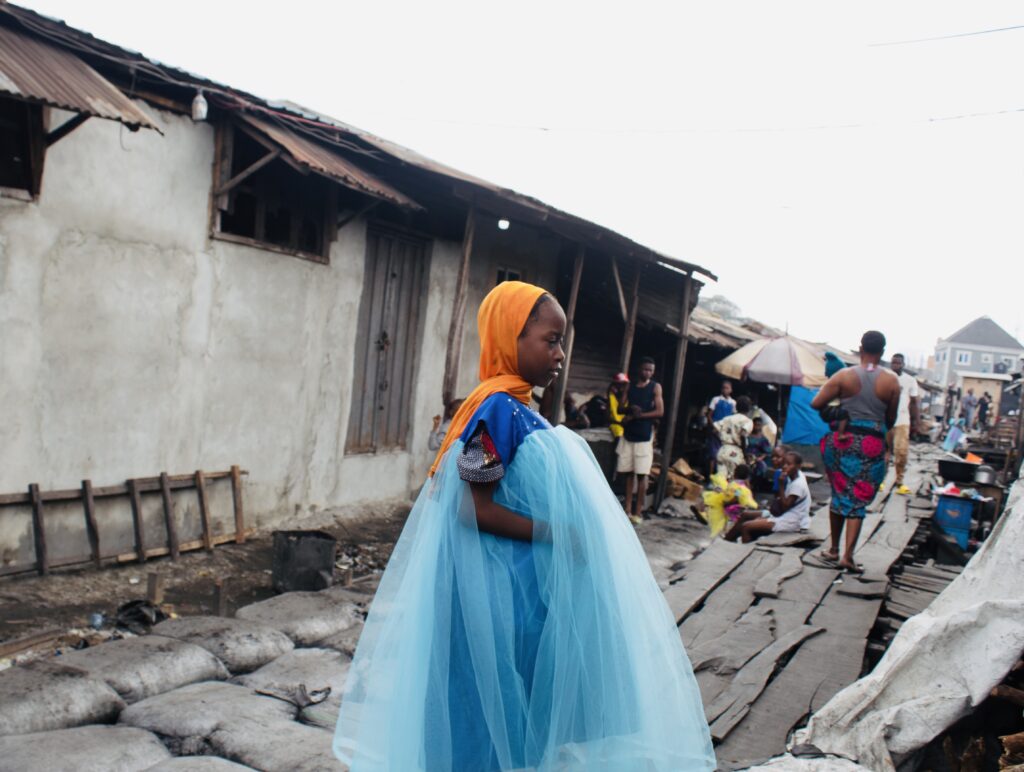 And just as the FOLABOMI Foundation has done since 2018, we immediately set out to work once again, to making brighter the Christmas of some vulnerable children in Lagos, Nigeria.
What always amazes me is how you well-meaning individuals and businesses willingly lend your hand-of-support every single year to help us achieve this one objective each year!
The support and donations you sent in for #ClotheTheClothless2022 have ensured that these vulnerable children in slums are reminded that their current living conditions should not limit them to the greatness they can achieve in future, and for this, we say, THANK YOU!
Collaborating with the tailoring team at the Folabomi House of Fashion always does the magic! As early as July 2022, preparations for #ClotheTheClothless had already started; with the sorting of every fabric-scrap from the Folabomi House of Fashion and purchase of a percentage of tulle, satin, lining and additional ankara fabrics that the design-and-tailoring team would use for production. Early commencement of the sourcing of a percentage of the fabrics, helped cut-down the anticipated high-cost of materials towards year-end.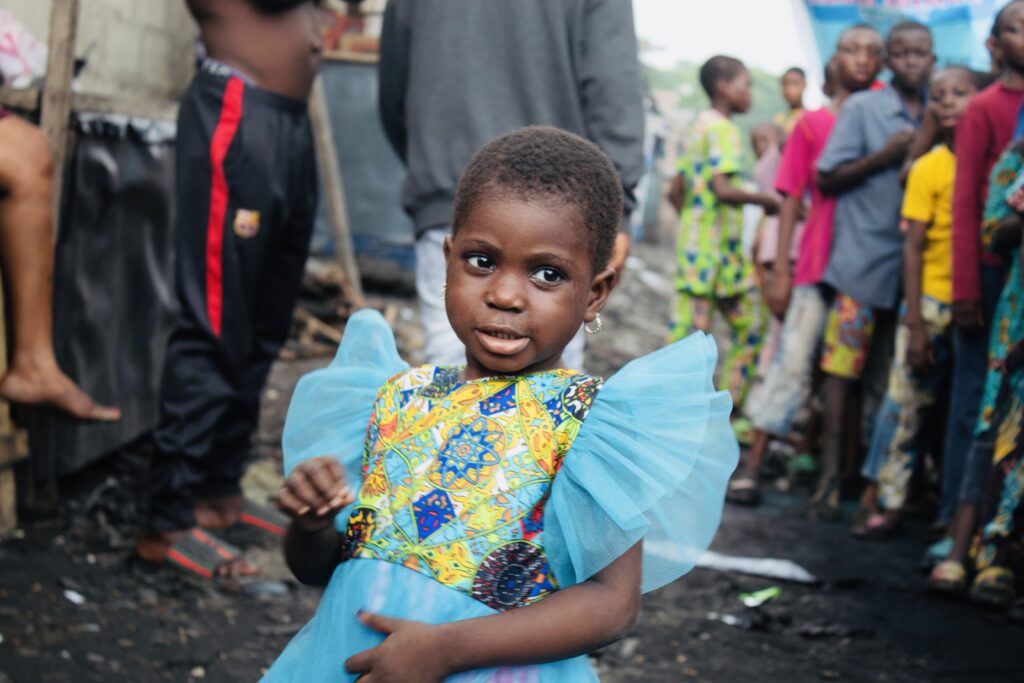 By September October, production of the brand-new clothing pieces for the beneficiaries of #ClotheTheClothless2022 was in full swing! Volunteer Laolu, all the way in USA, worked on the official flier for #ClotheTheClotheless2022. The first publication went out by September-ending, and before we could conclude whispering a prayer to God for good support, donations started flowing in. It was marvelous and by this, we were able to buy more rolls of tulle and ankara for the production of the clothes.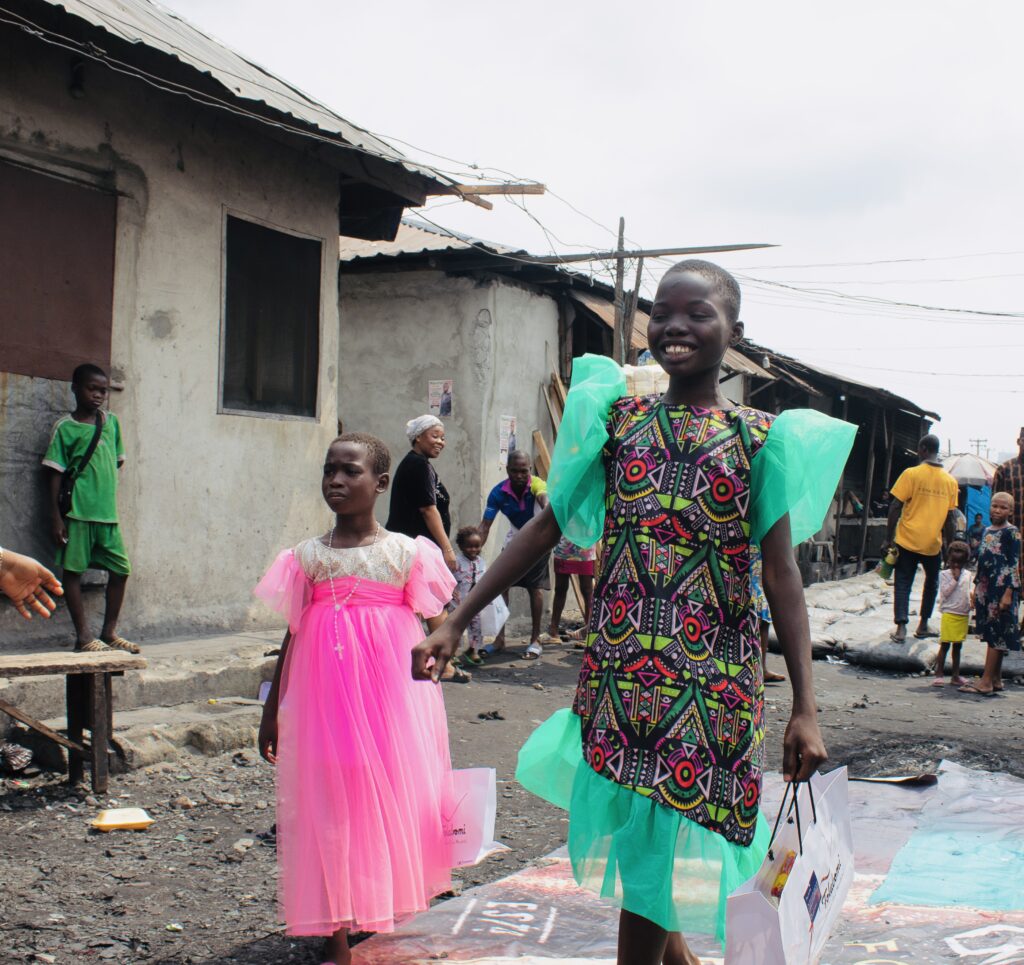 In the past and through the food and brand-new clothes provided, Folabomi Foundation had given a sense of belonging to over 850 vulnerable children in Sogunro community, Mosafejo Community, Orisumibare community and Oko-Agbon community in December 2018, 2019, 2020 and 2021 respectively. And in this beautiful year 2022, we decided to spread this same hope and love to the underserved children living in Oko-Oba community.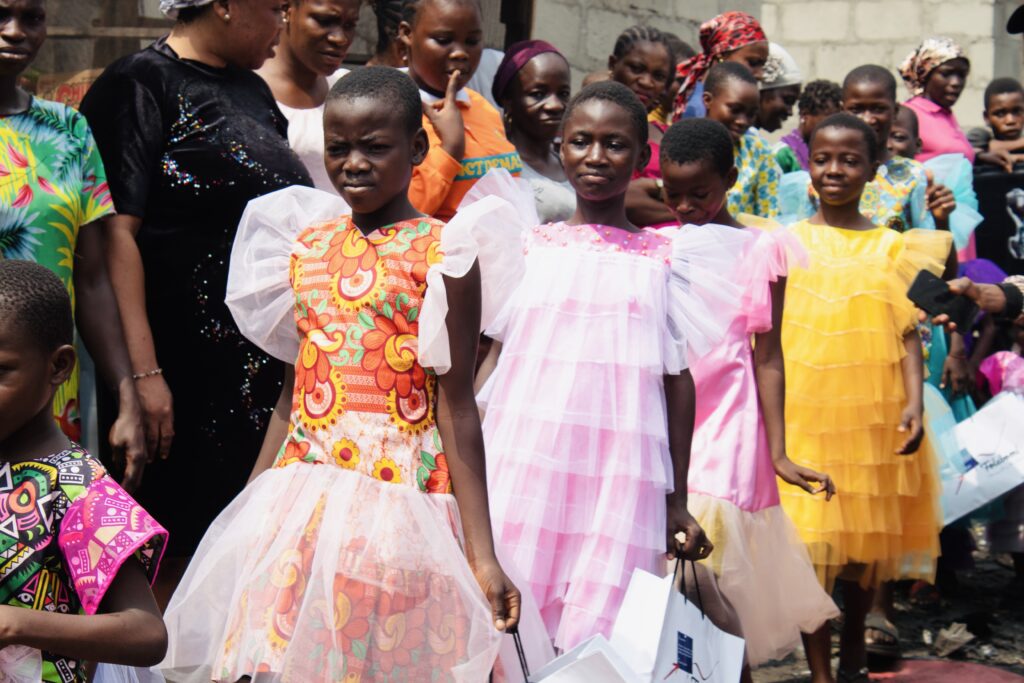 Just to give you a better understanding of the situation, these children live in the poorest of conditions; they have poor education, they struggle to get food to eat, they survive on unclean water and they wear the same tattered clothes over and over again, all year long. Though we cannot completely change their current situation as we would love to, our goal is to do the little we can to ensure they know that their current situation does not have to determine their future.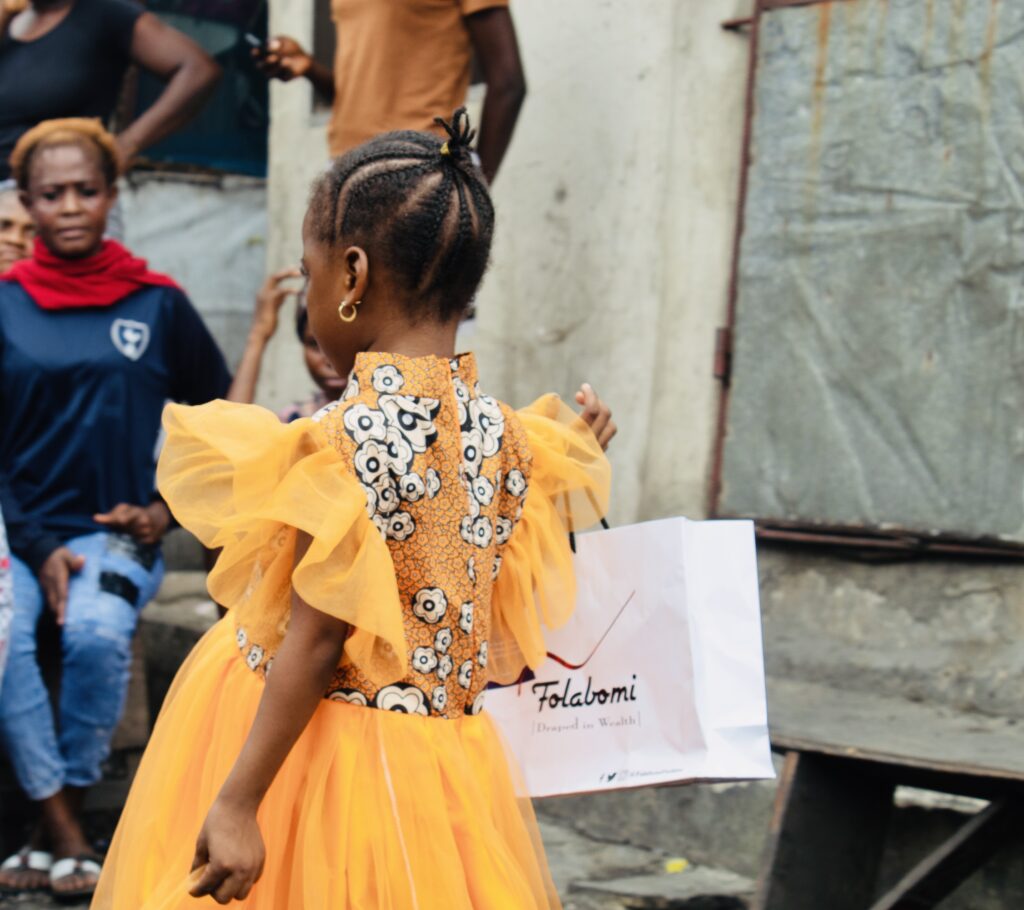 For a cumulative of a month and a half, tailors at the Folabomi House of Fashion cut and sewed the dresses, and the boys' kaftans were outsourced to be sewn. As cloth-production was going on, the Folabomi Foundation team had arranged for the preparation of food with our vendor and made necessary provision for healthy drinks.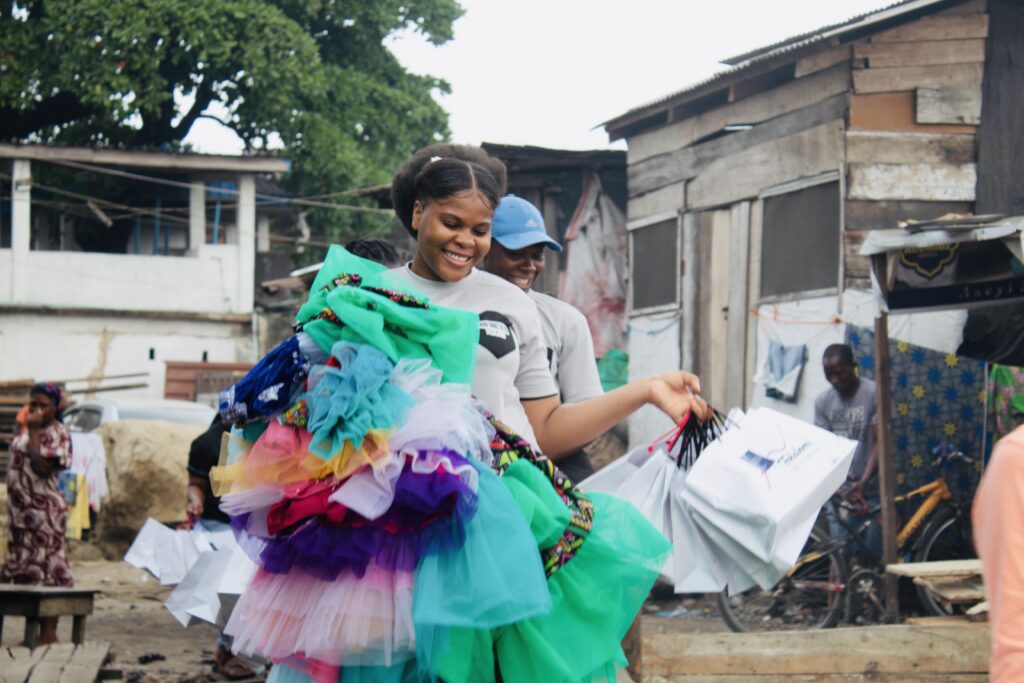 As monetary donations kept coming in for us to purchase more fabric and buy more essentials for the children, we got the most amazing news from Foodclique Support Initiative for the FOLABOMI Team to come pick up foodstuff in support of #ClotheTheClothless2022. Not long after, the Kuffrey Jones Brand sent in brand new pairs of unisex shoes for the children. The response from The support was massive and came in right on time.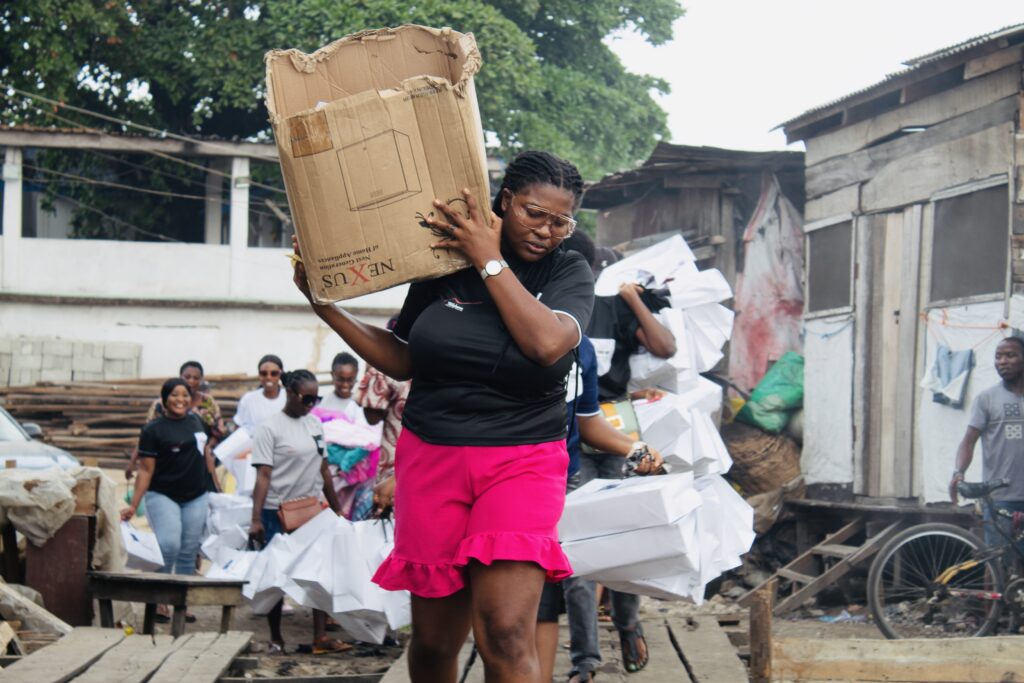 Through all of this, our indefatigable Damilola Oyetayo had gone for various surveys at Oko-Oba community for us to have a vivid understanding of the situation of the environment, the age range and needs of the children.
The week of December 17th came and we realized we needed more help than earlier anticipated with packaging of the clothes, goodies, shoes and foodstuff. Caleb, Tolulope, Dammy, Bunmi, Anu, David, Rachel and Titilope came in and in no time we were done with the packaging.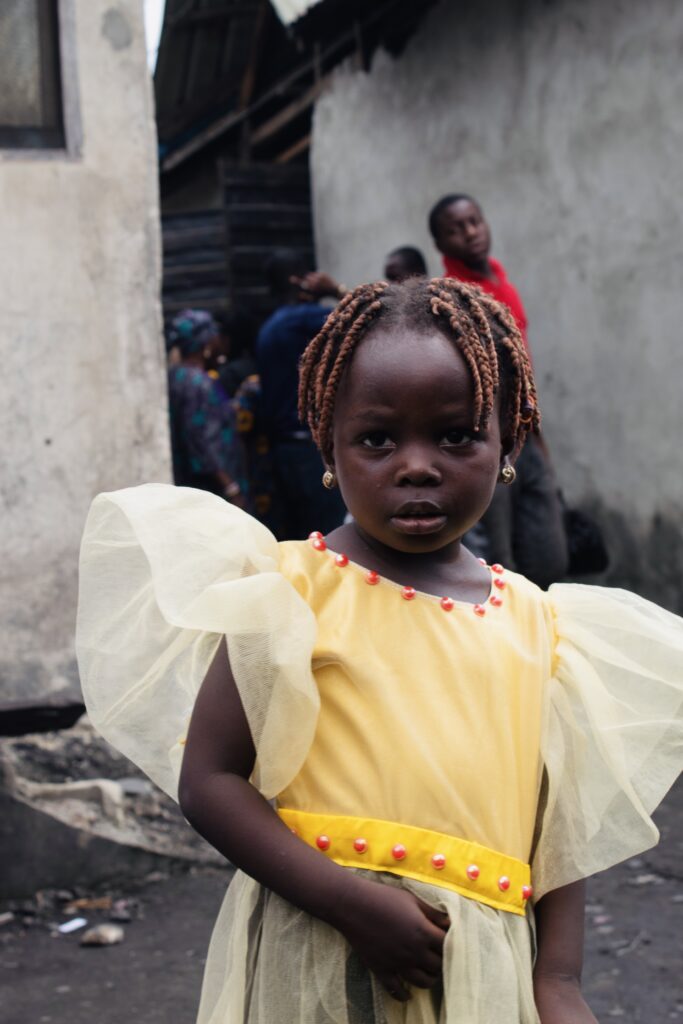 The D-Day came and our amazing volunteers converged at Folabomi store. All hands were busy, moving the packaged clothes, food, shoes and drinks into the bus that would convey us to meet the children at Oko-Oba community.
With hearts of prayer, we set-out and in about forty minutes, we got to our destination.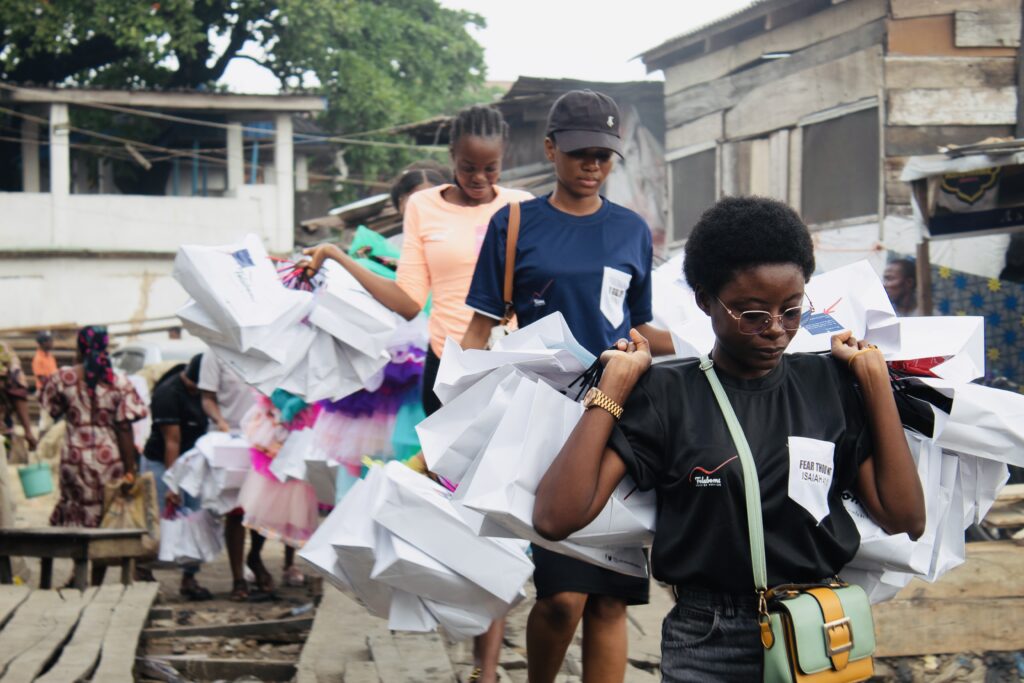 As soon as we moved the items from the bus to the classroom provided, we gave the children number-tags and commenced distribution of the clothes to both boys and girls. I do not think I have seen smiles as wide as the ones we saw at #ClotheTheClothless2022. The children were incredibly thrilled to own brand-new clothes – out of the blues! We overheard one of the mothers sighing with relief and saying that at least she would not need to worry about buying "aso-Odun" (christmas cloth) for her child this year.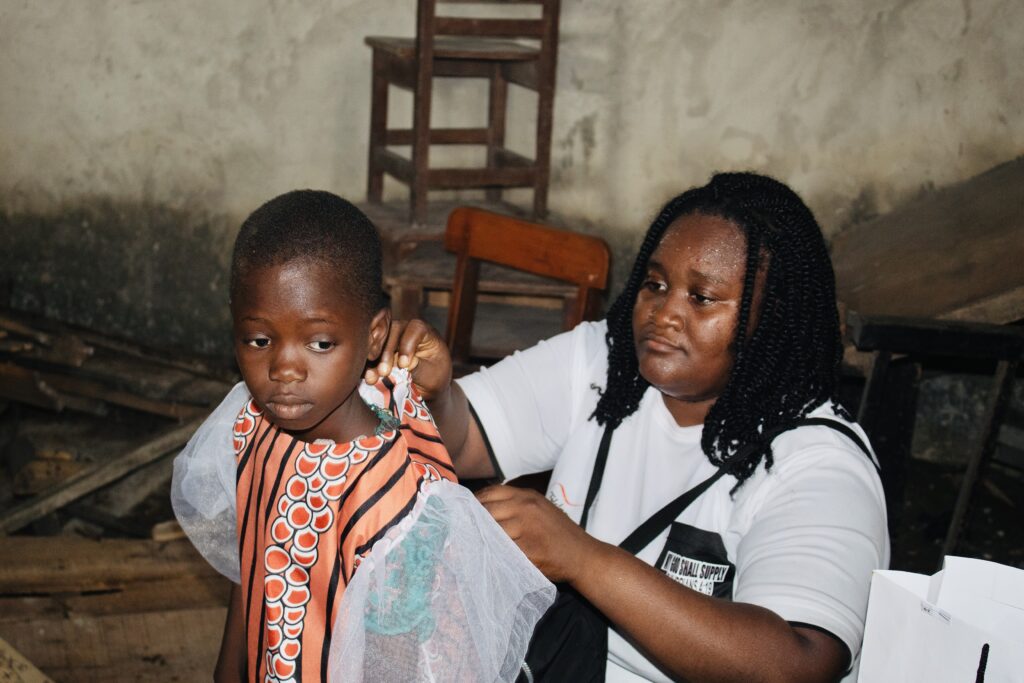 With the swift movement of our volunteers, these children were draped-in-wealth and a few of them even walked our make-shift Runway, right in the middle of the week community! Oh, it was a marvelous sight to behold!!! The girls seem to be models-in-the-making, strutting and having the time of their lives in their new dresses, without any form of shyness detected! See link for a short video of the #ClotheTheClothless2022 Runway.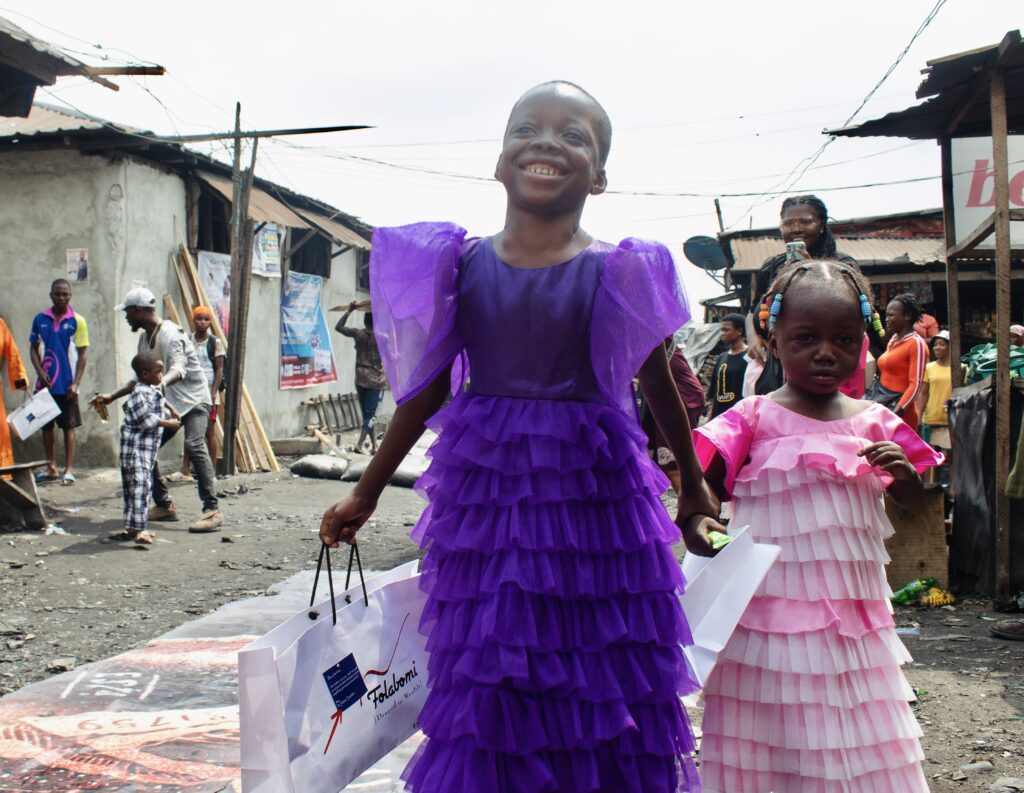 The children were pumped. And we? We felt fulfilled!
After two full hours, we had exhausted all the clothes and foodstuff taken to Oko-Oba community and trust me, we still had loads of people waiting to lay their hands on a package.

We look forward to a time when we would be able to clothe every single child in these communities. And sometime in the near future, Folabomi Foundation hopes to grow to a level in which the major basic amenities can be provided for thousands of these children, possibly on a daily basis, ensuring that they have access to a better life. But till then, we shall keep contributing our little quota, one-decent-meal and one-brand-new-clothing-piece at a time.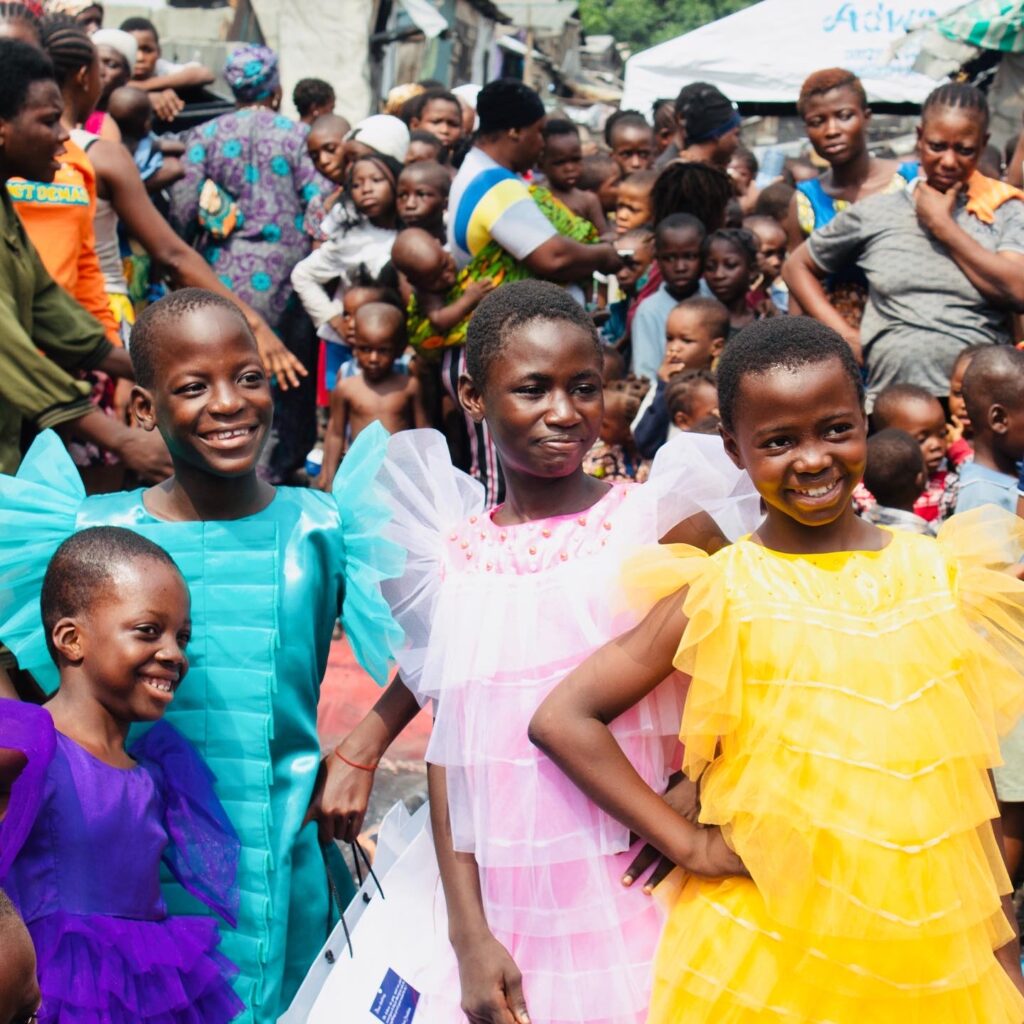 Thank you all for going all out to donate and support #ClotheTheClothless2022 …Thank you for being kind and thoughtful. Thank you for praying for us. May these children grow to be great men and women in future and may you be continually blessed!
#ClotheTheClothless2022 Volunteers
Oluwabori Odumah
Caleb Oladipo
Ebenezer Odunsi
Titilope Ajayi
Ayodeji Samson Akintomide
Elizabeth Omotosho
Yinka Omotosho
Gbemisola Stylist
Mariam Mimi
Olasunkanmi Mariam
Omotoso Oluyemisi Joan
Rachel Babatunde
Aanu Alabi
Florence Awosika
Abigail Eyeh
Comfort Ime
Goodness Gabriel
Bunmi Obaloyo
Akande Yejide
Tolulope Adeyemo
Mabel
Olaoluwa Oyedokun
Titilayo Adeliyi
Toluwani Adeliyi
Damilola Oyetayo
Dara Kolapo
David Ogunjimi
Toluwaleye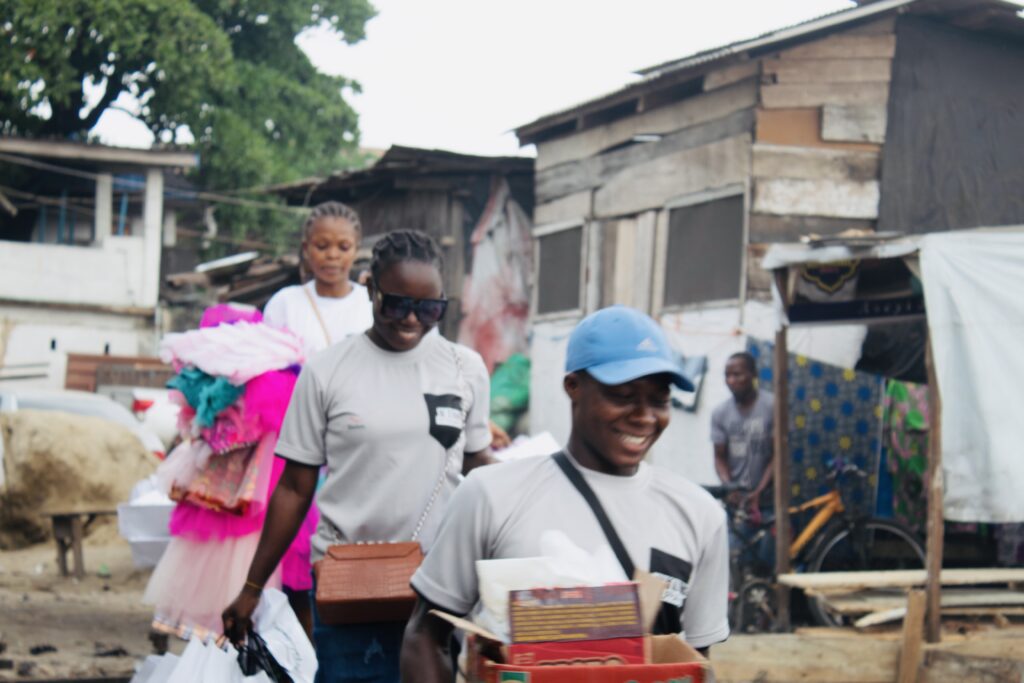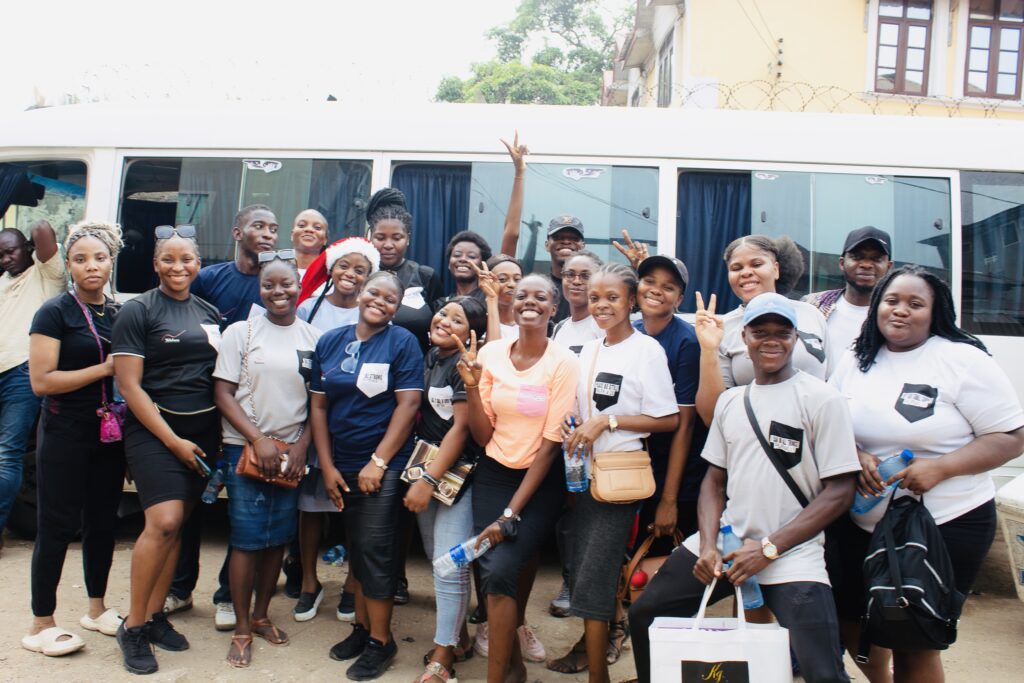 Profound Gratitude to our donors (To respect their privacy, we will be putting up just their first names)
Unidentified (1)
Daniel
Titilope
Funmbi
Folabomi
Busola
Wunmi
David
Onyebuchi
Seyi
Eniola
Tunji
Unidentified (2)
Christy
Yemi
Omolara
Mary
Bukola
Rachel
Ayoolu
Crystal
Hannah
Mabel
Bori
Temitope (1)
Kezia
Michael
Jennifer
Dare
Kehinde
Tolulope
Unidentified (5)
Aanu
Olaolu
Olajumoke
Damilola
Lanre
Unidentified (3)
Esther
Bamise
Ayodele
Ayodeji
Hope
Busayomi
Tumininu
Jumoke
Ebenezer
Toluwalope
Temitope 2
Oluwakemi
Testimony
Comfort
Unidentified (4)
Ope
Deborah
Kuffrey
Foodclique
Ayobami
Tasleem
Osaka
Ebunoluwa
Olubukola 1
Fìyìnfólú
Charles
Jacob
Omotosho
Rachel
Mariam
Yejide
Olubukola 2
Pluming
Regal Estilo
Tomisin
God bless you all and replenish your pockets. Amen
Special Shoutout to our Volunteer Photographer
David Ogunjimi Photography