Yasss!! Another valentines day is here!!!! And I've been surprisingly infected by the excitement (I can't tell why) .
.
.
.
Here's the thing.. me I don't feel you have to have a Boo to be upbeat for valentines' day, right? right?! 
 … ahmean, its only the 14th day in the second month of the year.. dassal! Not like I'm a beefer of the celebration of love or anything o, I even strongly believe that I'm sometimes a 'helpless, hopeless, that's how you make me feel ♫' kind of girl.
In short, to prove this point, Folabomi clearly declares an offering of a yummy (oh so sumptuous) 20% discount off all orders placed on every piece of FOLABOMI clothing on February 14th (yessss!! Huuuuge stuff, yesss! 
); but that's not all; inclusive of this massive 
 coming your way, here's a few situations to be mindful of this year's valentines day..


#1 First things first, Don't Form "I can't be bothered" if you actually will be bothered.
So Kanipe you just experienced a break-up and you are a very emotional purzon and you now think that the best time to take that casual leave and go out to chill is the period around the 14th?? lmaooo!! are you a joker  ??
— please,  just carry your kaya and go to work, ehn or possibly a business trip or lectures, anything but placing yourself in a situation to wallow in alone-ness.. the long and short is, get engaged in something productive that will help keep your mind in the state we want it.
#2 Don't Get it Twisted, even Nigerian Pampers is 'Cost'.
Maybe, just maybe being single this season is a blessing in disguise. See nauw, we all know that the economy is currently in a very critical condition, you now want to add having a baby to your bukata? I must say you have the heart of a lion  
 #WehdonMa
I even hear that Jumia is helping out with 50% discount on all hotels! Ooshey.. helpers of the helpless 
. But just before you run off to google this offer, weigh the discount to the cost of raising a mini-you. Except you are married sha, then … what are you still waiting for? Alele!

#3 Did I say 'Go to Work' Earlier? Scratch that please… Ko le Werk!
Chill, there's a story attached to this resolve. On the 14th of February last year, I found myself walking through Commercial Avenue holding flowers… only that, the flowers were not sent to me.
So considering that I'm single and all, you might be wondering what I was doing with a bouquet of flowers on valentines day, abi? Well, I shall answer that. — No, it wasn't from a secret admirer nor was it from a toaster. No, I did not buy myself flowers.. and No, I'm not that self involved.
My boyfriend and I had just broken up and the single-hood plan was to go to work, and get on with the life, uno. This would have worked anyways, if only my boss had stayed in his lane and hadn't sent me to hand-deliver a huge 55,000 Naira bouquet to his Unilag girlfriend.
Ahn ahn wait, you've not even heard the worst part. I had to walk through a very rowdy street in Sabo as strangers stopped me to admire the flowers and say things like, 'aawwhh.. He must love you a lot', kai.
#4 Because 14th February 2017 Falls on #TransformationTuesday
Now join me in putting your feet on the ground and shouting 'yes' if you agree.
"Yes!"
"Do you want to let love in?"
"Yes!"
"Do you deserve love?"
"Yes!"
Well, guess what? You have to find peace with yourself first.
Love yourself every single day and the 14th of February will not have the power to make you feel less loved.
Come to think of it gan, without valentines day, February would be .. you know.. just January; well, okay with 3 days off.. but yeah, you get the drift.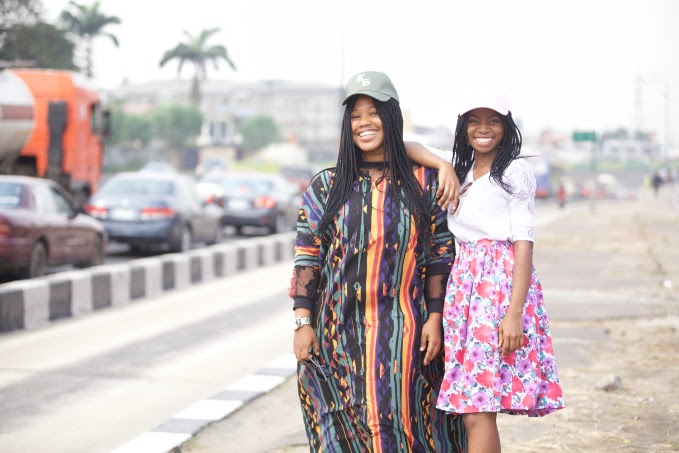 Sha sha.. on to a Disclaimed Level: 
Dear Future husband, please do not read this post. But just incase you do, kindly realize that I was only joking. Private trips, flowers, dinner and everything mushy must be involved. Thank you for understanding when someone is only playing with you. – Your smiling future wife,  Toluleye
.
and Dear Male Readers, please note that I shall not be held responsible for any resulting chaos that ensues from you agreeing with me and thus thinking that February 14th is just a normal day. Not every woman holds this opinion o. Spoil that special woman in your life to stupor, not just today, but everyday. – Regards, Folabomi.


Muse: Chioma & Toluleye
Skirt and Top: Folabomi |Draped-in-Wealth|
Base Ball Cap: Koded Signature
Photography : V O Photography